Golf Holidays
Take five and tee off
From exotic backdrops to golf-cruise itineraries, our roundup of five must try golfing experiences for your client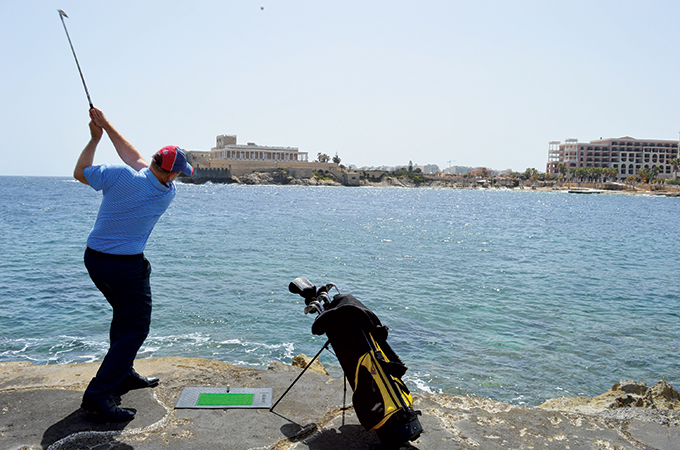 MYSTICAL MARRAKECH
Be Live Hotels will open two new hotels in magic Marrakech this year and both hotels are located in the beautiful and quiet residential area of Palmeraie. The short distance to spectacular and exclusive golf courses like Royal Golf Marrakech, Assoufid Golf Club, Amelkis Golf, Al Maaden Golf, PalmGolf Marrakech Palmeraie, PalmGolf Marrakech Ourika, Noria Golf Club, Atlas Golf, Montgomery Golf and Samanah Golf gives guests the chance to enjoy golf and relax and combine sports and culture in Marrakech.
Be Live Collection Marrakech Adults Only will be a 'dreamlike' hotel, with 212 elegant and spacious rooms combine best comfort and modernity: 28 rooms are "swim-up" superior rooms, 20 rooms are suites. Two large swimming pools (one is a Zen-pool), wide and peaceful gardens, a relaxing SPA with heated indoor pool, jacuzzi, sauna and treatment rooms and a fitness-centre round up the offering.
Mission Hills Golf Club in southern China is officially the world's largest golf club with 12 award-winning courses, each created by a signature designer, five of whom have won golf's oldest Major, The Open
The four-star Be Live Experience Marrakech Palmeraie offers 167 large and full equipped rooms. Various sport-facilities, a fitness-centre, a garden with typical Moroccan plants, spices and animals, a game room and entertaining animation program await guests.
A MISSION TO CHINA
Mission Hills China is offering golfers the unique chance to play five golf courses designed by five Open Champions in five days. Mission Hills Golf Club in southern China is officially the world's largest golf club with 12 award-winning courses, each created by a signature designer, five of whom have won golf's oldest Major, The Open. They include Jack Nicklaus (4 Opens), Sir Nick Faldo (3), Ernie Els (2), Greg Norman (2) and Women's British Open winner, Annika Sorenstam.
The historic Nicklaus-designed course at Mission Hills in Shenzhen is named the World Cup Course having hosted the 41st World Cup of Golf in 1995, the first major international golf tournament to be hosted in China. Also in Shenzhen, the popular Faldo Course has hosted ten editions of the Faldo Series Asia Grand Final while the Els Course was named Best New Course in Asia following its opening in 2001.
On the Dongguan side of the 20-sq-km Mission Hills complex, the Norman Course has a reputation as one of the most challenging in Asia while the Annika Course was Sorenstam's first design and the first by a female designer in the region.
The special five-day 'Open Champions' package is available until March 31, 2018.
LUXURY GOLF COURSES
LGT Golf is expanding its product line for 2018 with luxury golf cruises with the Rhine, the Mekong and the Danube Rivers all seeing the unique combination of championship golf and river cruise. The luxury programme features 9, 10 and 16 nights in the various destinations.
The niche product starts at €4,102 ($4,822) for a seven-night package and for the 16 night Vietnam and Cambodia €6,466 ($7,600).
"We will be expanding a few more programmes, but always with our goal of providing luxury aspirational experiences," said Boekdrukker, managing director of LGT Golf. "France and Scotland are currently being looked at for our 2019 line up, with the possibility of adding a few more destinations over the next few years."
RAIL AND TEE
Since their establishment in 1989, Rovos Rail's magnificent hotel trains have earned an international reputation for delivering truly world-class experiences. With discreet and friendly service, five-star cuisine and a selection of South Africa's finest wines, Rovos harks back to a simpler, more elegant era encompassing the timeless grace and high romance of African exploration.
The African Golf Collage offers a panoramic ten-day journey, which winds its way from Pretoria, the capital city, to Cape Town, and includes both a golfing and non-golfing itinerary. Courses featured include Leopard Creek Kruger, Durban Country Club,/Zimbali, Champagne Sports Resort Ladysmith, Humewood Port Elizabeth, and Ernie Els Oubaai George.
Departures are in October and November, and fully inclusive rates are from £6,200 ($7,950) per person on a twin/double basis.
ECO GOLF
It is estimated that some 40 per cent to 60 per cent of waste collected from the seabed consists of harmful plastics. Corinthia Hotel St George's Bay ensures players can test drive their golfing skills and be environmentally friendly at the same time.
The hotel has launched a brand new and innovative leisure activity at the water's edge, inviting guests to hone their golf skills and practice their swing using special Ecobioballs that convert into fish-food on contact with seawater.
The hotel will provide the necessary golf clubs and a sea-borne target for guests to aim at, together with the special golf balls that are 100 per cent biodegradable, non-toxic and completely flora- and fauna-friendly. Once the balls hit the water, they biodegrade in less than 48 hours, letting out the fish food they contain inside.
"Literally every shot, good or bad, counts! Guests can hone their swing and the fish will be grateful," says Stuart Chappell, the hotel's general manager.
Located in the culturally vibrant and historically pivotal St Julian's, the Corinthia Hotel St George's Bay is a world-class resort that offers the perfect balance of tranquillity, panoramic views of the Mediterranean, culinary delights and leisurely activities. The resort boasts 141 rooms, 70 executive club rooms and 38 suites, all with a private balcony, as well as five pools, a private rocky beach and direct access to the Mediterranean Sea.